---
Guitars & Basses . Pedals . Amps . Repairs . Lessons
Let us Help You Make Your Musical Dreams Come True
---
OUR FEATURED PRODUCT
JUST IN. Limited Edition Carbon Copy Delay pedal in metallic silver.
---
We Make Homer T Guitars
Homer T is our line of Boutique Vintage Style Guitars & Basses.
They're made right here in Redondo Beach.
Expert Instrument & Amp Repair
We provide expert repairs for guitars and amps…as well as basses, mandos, and ukes. Repairs are done quickly…and at a fair price. Most repairs are done in a week or less.
We have YEARS of experience doing repairs, and all repairs are guaranteed.
LEARN MORE ABOUT REPAIRS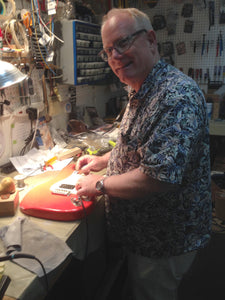 Harbor Music Featured on Big Review TV