---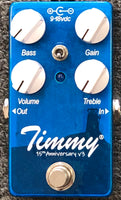 The 15th Annversay Timmy V3 is finally here !!
Same great Timmy sound with an added feature…HIGH GAIN !!
Paul has voiced one of the two sides of the toggle switch to get 
a SEARING DISTORTION sound.
So, instead of the toggle switching between "Symmetrical" and "Asymmetrical" clipping (on the V2)…
the toggle on the V3 switches between "Vintage Timmy" & "Crunchy Articulate Distortion".
Same great Timmy, but with the option of "Timmy-esque" Distortion.
CLEAR & CRUNCHY !!