---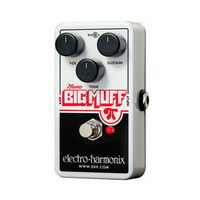 The Big Muff Pi from Electro Harmonix needs little Introduction.
For over 40 years, it's been lending its Creamy, Sustaining voice to Rock & Roll,
From Hendrix and Santana, to the Smashing Pumpkins and the White Stripes,
everybody used the Big Muff Pi to impart on their tone perhaps just a touch of Hair,
all the way to Full Blown Beastly Distortion.

The only complain about it was the size of its enclosure.
Now with the Nano Big Muff Pi, you can have all that tone
in a compact, pedal-board friendly box.

Features:
-True Bypass
-Volume Knob sets Output Level
-Tone Knob Modulates EQ
-Sustain Knob sets Gain Level
-Runs on 9v DC/Battery

Try as they may,
No other pedal really comes close to the Big Muff.
It has a Rich, Unmistakeable tone,
and has had it since the 60's.