---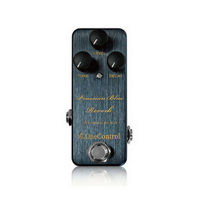 The Prussian Blue Reverb is a reverb effect that creates the ideal reverberation.
History has seen various reverb systems that make it happen. Some people made a room particularly designed for reverberation. Plates, springs, digital reverb and all other historical evolution of reverb effects were results of pursuing ideal reverberation. Digital effect technologies have now developed and these past reverb effects can now be easily simulated. If you want the sound you heard in past classics, these simulated effects are useful.
Also, new unique effects that are based on reverb but complemented with new ideas also create amazing effects. The Prussian Blue Reverb is different from the effects that took off from historical simulation and reverberation.
Description
Newly-designed reverb pedal by BJF
Sound that is overwhelmingly natural and extends esoterically
Decay control that does not interfere with rhythm and allows natural setting
Kill Dry function
High quality machined aluminum mini housing
True bypass
Power or battery operated
Battery not included