---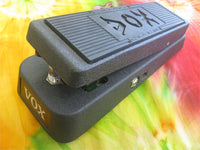 The VOX V845 Wah-Wah Pedal a New Version of the most Famous Guitar Pedal in History.
Based on the Specs of the Original Wah-Wah, the V845 has a Huge, Expressive Sweep,
and every bit of the tone and feel of the Classic Wah-Wah Pedal.

Feautres:
-Road-Tough Construction
-Classic Wah-Wah Sound
-Runs on 9v DC/Battery

The V845 Gives you the that Classic, Weepy, Wah-Wah tone that just can't be duplicated.