---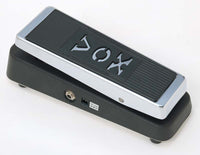 The VOX V847 Wah-Wah Pedal an Enhanced Version of the most Famous Guitar Pedal in History.
Based on the Specs of the Original Wah-Wah, the V845 has a Huge, Expressive Sweep,
and every bit of the tone and feel of the Classic Wah-Wah Pedal.

It's also Got Some Modern Updates, like AC Power Capability.
It has a Buffered Bypass, so it preserves your signal's integrity when switched off.
Its redesigned Inductor is closer in specification to the original VOX wah inductors,
delivering Improved Dynamics and Tone.


Feautres:
-Road-Tough Construction
-Classic Wah-Wah Sound
-Buffered Bypass
-Improved Inductor
-Runs on 9v AC/DC/ 9v Battery

The V847 Gives you the that Classic, Weepy, Wah-Wah tone that just can't be duplicated.