---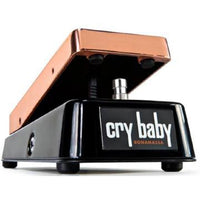 The Joe Bonamassa Signature Cry Baby is not just another Wah pedal.
It's built to Joe's exacting specifications to ensure that it fits right into his rig.
It has some rare components, including a Halo Inductor for richer harmonic content,
and a Huge Vocal Sweep Range.
It has an Optional Buffered Output to prevent impedance imbalances with other pedals,
or choose True Bypass if you're into that.
Housed in a smooth-finish black body with a polished Copper Top,
this Cry Baby looks as good as it sounds.

Features:
-Optional True/Buffered Bypass Switching
-Extended Vocal Sweep Range
-Halo Inductor
-Polished Copper Top and Smooth Black Finish
-Runs on 9v DC/Battery

Finding the Joe Bonamassa Cry Baby is like finding that Rare Gem of a Vintage Wah, that Sings and Groans,
without having to comb through every vintage store around.
It's the Cry Baby that Joe Bonamassa plays every night around the world.