---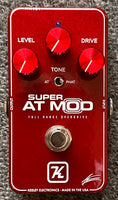 This is the Long Awaited Keeley Super AT Mod OD pedal.
Designed in association with Andy Timmons.
Tube Amp Asymmetric Clipping
Engineering the perfect overdrive… again! (And this time we brought a friend.)
There is something special about a Keeley Modded Blues Driver. There's something even more remarkable about Andy Timmons' tone. Since his exposure to this Keeley modded stompbox early on, it has been virtually glued to Andy's board. Coincidence? We think not. So, what happens when Andy and Robert use the familiarity of the Super Phat Mod platform to dethrone a classic? Enter the Super AT Mod.
Andy Timmons and his beautiful guitar playing have been known to bring people to tears, literally! After working with Andy for a couple of years we decided to focus his ears on the Keeley Super Phat Mod. There are two significant modifications to the tone of the Super AT Mod Overdrive that will be very apparent to players. The new Timmons mod accentuates both the tone control and the gain creation – making this circuit truly sound and respond like a tube amplifier in a stompbox.
New Tone Switch
There is a new circuit design for the Tone Switch in the Super AT Mod Overdrive. The AT-mode is voiced for humbuckers. The new AT-mode features lower mid-bass frequencies so your humbuckers sound tighter and more transparent. Like Andy says, "I just wanna play melodies all day"; the Super AT Mod Overdrive inspires you to play guitar!
If you have single coils and want a little more power behind your sound, the original Keeley PHAT-mode is still available with the Tone Switch flipped to the right.