---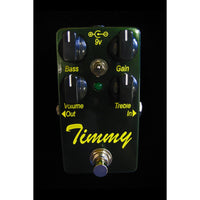 This newest batch of TIMMY pedals features our very own Harbor Music custom Green Sparkle/Yellow Colors!
They look awesome if we do say so ourselves. And we do, ourselves, say so.

The TIMMY Pedal is a Transparent Overdrive and Clean Boost.
This Pedal is probably the most Transparent Overdrive that we have ever come across. TIMMY won't color your sound, he'll only add Gain and Volume.
The Tone Controls (Bass - Treble) are Subtractive, meaning the more you turn them, the less of each you get.
It has a 3-way Toggle Switch on top which allows you to switch between Symmetrical and Asymmetrical Clipping.
The Timmy Pedal is the Single Channel, younger brother to Paul Cochrane's TIM Pedal.

Note: This Pedal is the Opposite of an 808.
This Pedal does not lop off the Low End or compress the High End, and it does not boost the Mids.
If you are looking for another 808 clone. . . DO NOT buy this pedal!
This is the Single Most Popular Pedal that we have ever sold.
We have shipped them to all four corners of this Earth! (We have yet to ship them to other planets)